University of Kentucky String Project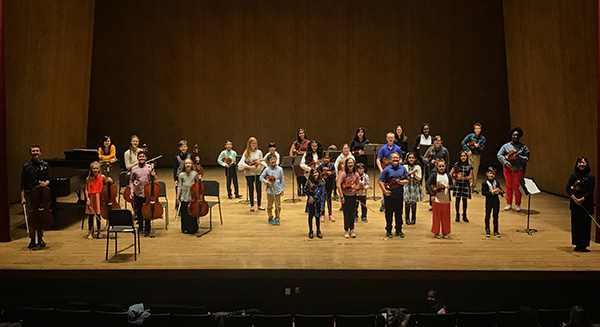 The UKSP will follow the University of Kentucky's guidelines for the in-person meetings, which are that masks will be required inside all University of Kentucky indoor spaces regardless of an individual's vaccination status. You can read more about UK's safety policies here at https://www.uky.edu/coronavirus/do-your-part/mask. 
---
The UKSP provides instrument instruction on violin, viola, cello and bass for children from age 7 and up. The mission of the program is to offer a comprehensive music education which provides instruction in a variety of subjects related to string playing, including technique building, performance, and music theory. Directed by Dr. Tze-Ying Wu, the UKSP also serves as a platform for the UK School of Music students to gain valuable teaching experience.
The UK String Project is a member of the National String Project Consortium, an organization committed to the development and growth of string education across the nation.
Enrollment is limited and is on a first come basis. The UKSP has a limited number of instruments that are made available for students who need additional financial assistance. Please contact Dr. Tze-Ying Wu for more information.
Fall 2021 Program
Program Period: September 6- December 4, 2021
Registration Deadline: August 29, 2021
Program Format: In-person instruction. Classes and lessons will meet in the University of Kentucky School of Music. Zoom lessons may be offered as an alternative if the scheduling or room availability is not convenient for private lessons. 
Class Schedule

Each week (12 sessions), we offer:

50-minute in-person group classes. Group classes are arranged by instruments and levels. Below is a tentative schedule that may change based on enrollment and room availability.

Violin A (Beginner) - Saturday 9-9:50 AM
Violin B (Intermediate) - Saturday 10-10:50 AM
Violin C (Intermediate) - Saturday 11-11:50 AM
Viola (Mixed level) - Saturday 12-12:50 PM
Cello A (Beginner) - Saturday 1-1:50 PM
Cello B (Intermediate) - Saturday 2-2:50 PM
Violin D (Advanced) - Saturday 3-3:50 PM

Bi-weekly (6 sessions) we offer:

30-minute in-person private lesson (time arranged between the teacher and the student)

Fees

$150 - includes group lessons, six private lessons, and all the other activities
$185 - includes all mentioned above plus extra six lessons with student teachers

Faculty
Please contact Dr. Tze-Ying Wu for any questions.
Created on Sep 27 2016 - 12:35pm | Last Updated Aug 26 2021 - 3:06pm