University of Kentucky String Project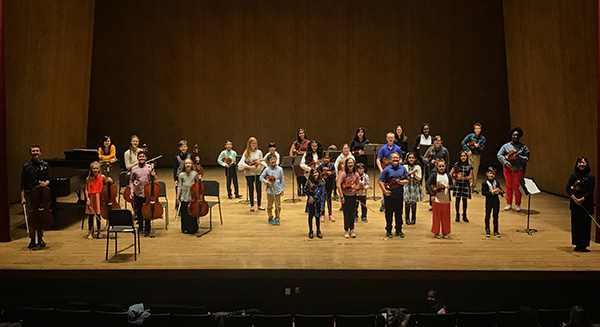 The UKSP will follow the University of Kentucky's COVID-19 guidelines. Learn More
---
The UKSP provides instrument instruction on violin, viola, and cello for children ages seven and up. The program's mission is to offer a comprehensive music education that includes instruction in various subjects related to string playing, including technique building, performance, and music theory. The UKSP also provides a platform for the UK School of Music students serving as student teachers to gain valuable teaching experience.
The UK String Project is a member of the National String Project Consortium, an organization committed to the development and growth of string education across the nation.
The UKSP has a limited number of instruments for students who need additional financial assistance. Please carefully review the updated 2022 program information before registering, and contact Dr. Tze-Ying Wu with any questions.
Fall 2022 Program
Program Period: September 6 - December 3, 2022
Registration Deadline: September 2, 2022
Program Format: In-person instruction. Classes and lessons will meet at the University of Kentucky School of Music (465 Rose Street, Lexington, KY, 40506). Zoom lessons may be offered as an alternative if the scheduling or room availability is inconvenient for private lessons. 
Class Schedule

Each week (12 sessions), we offer:

50-minute group classes

Group classes are led by a master teacher and assisted by a student teacher. 
Group classes are arranged by instruments and playing levels. Below is a tentative schedule that may change based on enrollment and room availability.

Cello B (Intermediate) - Saturday 11 - 11:50 AM
Cello A (Beginner) - Saturday 12 - 12:50 PM
Viola (Mixed level) - Saturday 1 - 1: 50 PM
Violin A (Beginner) - Saturday 2 - 2:50 PM
Violin B (Intermediate) - Saturday 3 - 3:50 PM
Violin C (Advanced) - Saturday 4 - 4:50 PM

30-minute private lesson (time arranged between the teacher and the student)

Fees

Lessons With Student Teacher, $150: includes weekly group lessons and all the other activities, with weekly private lessons with student teachers. Open enrollment.
Lessons With Master Teacher, $225: includes weekly group lessons and all the other activities, with weekly private lessons with master teachers. Selective enrollment, please contact Dr. Tze-Ying Wu for approval prior to registering. 

Participants interested in taking lessons from the master teachers must be available at the following times:

Wednesday between 3:30 PM and 5:30 PM for cello students
Friday between 3:30 PM and 6:30 PM for violin or viola students

Lessons with master teachers may be observed by UK students from the string methods class or UKSP interns. 

Faculty

Master Teachers

Dr. Tze-Ying Wu, violin/viola instructor, director of UKSP, and Assistant Professor of Viola and String Education of University of Kentucky Tzeying.wu@uky.edu
Ethan Young, cello instructor ethanyoung0315@gmail.com

Student Teachers

Student teachers are trained and supervised by master teachers. The roster varies from year to year. 
Please contact Dr. Tze-Ying Wu for any questions.
UPDATE - Violin and Viola seats are full for this semester. Please check back next year for more openings.
Created on Sep 27 2016 - 12:35pm | Last Updated Aug 31 2022 - 10:38am